Newsletter
Introducing Rio
(September 03, 2015)
---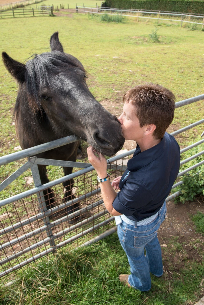 In June a new pony joined the team at Kesteven Rideability, based at The Paddocks Riding Centre, Hough on the Hill, Lincs. Lemonsholme Prince, aka Rio, is a 5 year old 14.2 Section A Dales pony and is settling in well. He was previously jointly owned by Pam Fromm, Lincolnshire's Dales Pony society representative and Tanya Bridgeman, an event rider based near Market Rasen.
Rio sailed through all the normal health checks undertaken with a new pony and took to the arena work like a duck to water! He was introduced into the RDA sessions unmounted whilst being led round all the equipment we use. Next he was ridden in the session by RDA coach, Karen, and he stood like a rock as she dropped beanbags in buckets and hoops onto cones. He joined the sessions being led and ridden by our volunteers until we felt that he was safe and ready for our riders.
He is now being ridden in our led sessions and is starting to get a fan club of admirers. His education is continuing with regular lunging and schooling sessions and he enjoys a hack out too. The plan is to get him out and about this winter with his first dressage test in September and a visit to the Rare Breeds Show, Newark in November. He lives in a small herd with our other seven horses where he started as the new kid on the block and is now king pin! He loves being groomed standing for hours whilst we titivate him and his monthly massage treatment is just sheer bliss.
The trustees at Kesteven RDA are delighted with his progress so far and looking forward to many happy hours working with him in the riding sessions. We are always looking for businesses and individuals to become Pony Angels by committing to a small monthly contribution to help meet the running costs of the ponies. For more information visit www.kestevenrda.co.uk/ponyangel or email [email protected]