Newsletter
Cassie wins Best in Show
(August 31, 2015)
---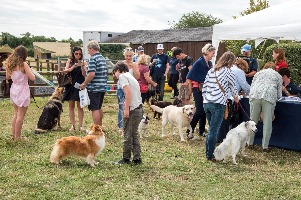 Once again, our Annual Fun Dog Show held at The Paddocks Riding Centre was a huge success. With over 40 dogs entered across the 11 classes the judges had a busy time picking winners with the rosettes for the classes kindly donated by Chandlers Country Stores, Grantham.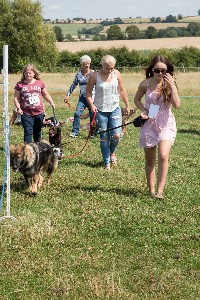 With the emphasis on fun, all the classes had a good number of entrants. Last years Best in Show winner, Logan won the Most Handsome Dog class sponsored by Windrustle Boarding Kennels and Cattery with Maisie winning The Prettiest Bitch class sponsored by The Hare & Hounds, Fulbeck.
Lincs Dog Training sponsored the Musical Sits which was won by a very well trained Maisie and the Fastest Biscuit Eater winner was Monty who wolfed down the biscuit in record time. Church Farmhouse Cakes were the kind sponsors for this class.
Class sponsors Wags & Smiles were pleased that Jezz won the Best Rescue class where entrants had an opportunity to tell their dog's story with heart warming tales of dogs ending up in loving homes after difficult starts in life.
Best veteran sponsored by The Brownlow Arms saw one of our volunteers, Ann Smith taking first place with Monty the retriever and the Best Young Handler was Katie Hanson with Bella who was definitely too young to visit class sponsors The Red Lion at Caythorpe. Dolly the dachshound won the Most Appealing Eyes sponsored by Woodies Handi Man, the Waggiest Tail went to Pip and Best Trick to Millie after an X factor judging round by the audience.
Ruby owned by Emily Johnson won the Dog the Judge Would Most Like to Take Home which was kindly sponsored by Warners Group Publications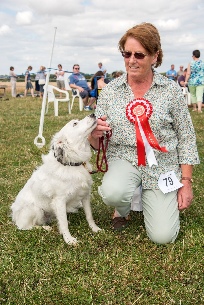 All class winners were eligible to take part in the final class of the day: Best in Show - sponsored by Sarah Harris Veterinary Physiotherapist and it was won by Cassie the collie.
Photographs courtesy of The Photographers Eye