Newsletter
Success at the National Championships
(August 03, 2015)
---
Kesteven Rideability are celebrating after a very successful weekend at the RDA National Championships at Hartpury College in Gloucestershire which took place from Friday 17th - Sunday 19th July.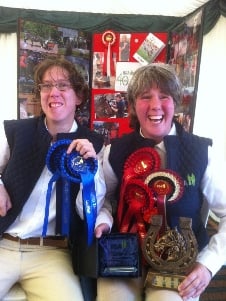 On Friday, sisters Hayley & Laura Ensor competed in the Combined Training which includes both the Countryside Challenge & a dressage test in walk. They both rode Sox for the Countryside Challenge and finished first and second respectively with Hayley also becoming Class Champion with the highest score of 88%, which was a fantastic achievement.
Later on in the day they were back for the Dressage, this time with Hayley riding Tommy & Laura riding Fudge. Once again they both had a great result with Hayley coming first & Laura second...so well done girls! Both were thrilled to receive their awards, with Hayley having an extra special surprise on Sunday to find out that in the Countryside Challenge she had attained
the highest score for a senior rider over the whole weekend which was a fabulous achievement, as it meant she had beaten 58 riders adding another trophy to her ever growing collection!
On Saturday morning, Tracy Yarnell was up first riding Sox in the Dressage (Grade I to V). They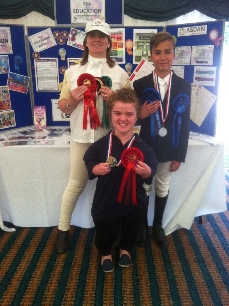 did a great job, managing to finish 4th out of 28 riders. Later on Bradley Dexter rode Fudge in his Dressage class coming a very cred-itable 7th in another large class of 28 riders, especially as Fudge was a little like a rabbit in headlights as it was his debut at the Nation-als and in the big outdoor arena! Sox came along as friendly pony to keep him company.
Later on, both Tracy & Bradley competed in the Free-style Dressage where they performed a short routine to music.
Tracey had chosen some great music from Genesis to ride Sox to, and rode so well that they won the class! Tracey had no idea she had won as she sat for the prize giving that afternoon - as the scores had not been up on the boards before she sat down - so much so that when they announced the winner she clapped away for a few moments be-fore realizing that it was her name being called out for first place!!!
Bradley's Freestyle music was the very uplifting Happy/Uptown Funk which had everybody dancing in their seats. After a bit of a false start where the wrong music was initially played (eek!), Bradley rode Fudge beautifully to pick up a well deserved 2nd place...well done Bradley!
There was further success for Team Kesteven on the Saturday as Bradley and Emily Johnson were awarded their Dressage Anywhere winners medals that they had won earlier in the year on the much-missed ginger ninja, Del.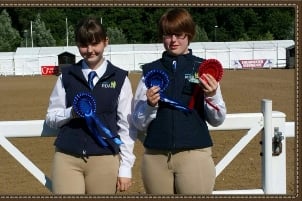 On the final day, it was the turn of our other pair of sisters Jodie & Kayleigh Hughes to compete.
First of all they were down at the Countryside Challenge with both girls riding Sox. Both got off to a great start to the day with Jodie coming 2nd in the Junior section of her class & Kayleigh finishing in joint 1st place in the Senior section.
That afternoon they swapped onto the lovely Tommy for the Combined Training Dressage test, which is performed in walk. Both girls rode well, and Kayleigh added an-other rosette to her collection by finishing 2nd. Another good day for Team Kesteven and a great end to this year's Champion-ships!
Kesteven's other success at the weekend was our first place for the Musical Ride. For the Musical Ride our young riders told the story of the Ugly Duckling on horseback, this is filmed and the film sent in for judging. The rules state that there must be no editing and it must be filmed in one take...quite a challenge in our windy arena!! So well done to Frazer, Freya, Robert, Emilia & Katie for doing such a good job...and special mention to Karen for her camera-work! You can view the winning ride here.
A great weekend was indeed had by all…..we were so very proud of all our rid-er's and also the ponies, who behaved impeccably. Especially proud of the new boys, Fudge & Tommy who had made their Championship debut & were abso-lute stars! Team Kesteven (human & equine!) returned home tired, dusty but very happy…….roll on next year!!