Newsletter
Chosen Charity for Grantham Running Club
(May 25, 2015)
---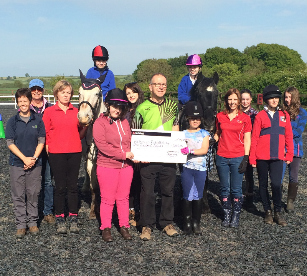 Grantham Running Club are proud to have staged this annual 10k trail run event as part of the Belton International Horse Trials. This year the record entries topped 350 runners, which more than doubled that of any previous year, proving that this event is becoming a firm favourite in the running calendar.
The course is one of the most challenging and rewarding 10k races in the region. The route takes in the picturesque Deer Park of Belton House and then climbs steeply up to the top of the Lincoln Edge and Bellmount Tower where runners can take in the magnificent views over the Vale of Belvoir and Trent Valley. Following a circuit of the relatively flat woodland the runners return to finish at the heart of the action of the 3 day horse trials event.
Grantham Running Club decides each year on a charitable cause to donate the profits to. This year Kesteven RideAbility was forwarded at our AGM and the fit seemed absolutely perfect. A very local charity doing really positive work within the community and of course the link with horses was obvious.
The race managed to raise £1000 which will be used to contribute towards the continued good work going on at Hough on the Hill.
Race Director, Andrew MacAllister, said " We are so pleased that we have been able to contribute to such a good cause, the work that the team at Kesteven RideAbility is doing is giving so much enjoyment, confidence and support to others".
Andrew would also like to thank not only the 50 or so volunteers that it took to stage the race, but also, and more importantly, all the runners that committed to the run making it the success that it was.