Newsletter
Sister Act
(May 17, 2015)
---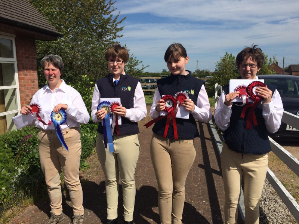 Two pairs of sisters have qualified for the Riding for the Disabled National Championships held at Hartpury College, Gloucester July 17th to 19th 2015.
Sisters Laura & Hayley Ensor from Caythorpe and Jodie & Kayleigh Hughes from Waddington competed at the Regional Countryside Challenge Qualifiers, Scropton, Derbyshire on Mon 11th May.
The competition consisted of a course of obstacles including opening a gate and riding under arches, the riders being marked on their riding ability and accuracy. At the Nationals the sisters will also have the opportunity to compete in an Introduction to Dressage class.
The girls were over the moon at having qualified in 2 very strong classes. Hayley and Laura came 1st and 2nd in the Senior section and Kayleigh and Jodie took 1st and 2nd place in the Juniors.
Jodie also won the award for best junior of the day with a huge score of 90%. Her sister Kayleigh commented "I found the course challenging but extremely well laid out and inviting to ride. The horse I rode, Sox, was wonderful and really helped me complete the round."
Thanks to the Rosemarie Anne Foundation for providing the funding needed to take riders to these events.