Newsletter
BT Supporters Club Grant
(August 22, 2014)
---
Trustees of Kesteven Rideability were over the moon to receive a grant for £5,000 from the BT Supporters Club to help launch our new Tots Saddle Club and to add jumping and endurance as extra disciplines for our other riders. The project was started in July, running over the summer holidays and we intend to continue until the October half term. Hopefully the Tots Saddle Club will restart in 2015 form Easter onwards.
We now have a total of 50 riders who ride with Kesteven Rideability and 14 of those are newly signed up for the Tots Saddle Club, all of whom have had at least 2 sessions to date. The jumping and endurance has enhanced the regular riding sessions for our existing riders and 2 of those have qualified and competed at the RDA Nationals in show jumping held at Hartpury in Gloucestershire this July. We have 15 riders who have completed the 1km "Getting Started" Certificate in endurance riding.
Rider Stories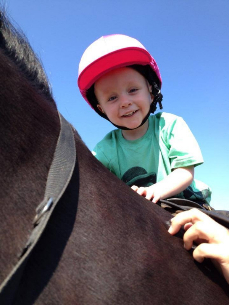 Timmy Lynch is 3 1/2 and joined the Tots Saddle Club in July. Timmy has Cerebral Palsy which means his left side is weak and he has a partially weak right side. This active and happy little boy has had 4 sessions to date and rides Roma. His mum searched the internet to find somewhere where Timmy would be able to ride as he has been asking for a long time and luckily the Tots Saddle Club was available.
Timmy has to be careful as his balance is affected by his condition but his mum says that the riding is helping to improve this and his concentration as well as giving him more confidence.
Timmy "Loves his pink hat" and is really happy and enthusiastic to come riding!
Dannon Butler is 6 and has just had his 2nd session. He has Hemi paresis (part Cerebral Palsy) which has left him with a weak right side and means he has to wear a splint on his right hand. Dannon has ridden Emily and Fudge and is an active little boy and "loves" coming to the centre to ride. The family live in Spalding and found that our centre was the only one that could offer Dannon the type of therapeutic riding he needs. His mum looks after a horse and now that Dannon has started riding he helps her and has become more confident around horses. Dannon's nana brought him along to his 2nd session and she said that all he kept saying was "don't forget nana, my hat is 00 with a green silky top".