Newsletter
Presidents award given to Kesteven founder
(June 22, 2014)
---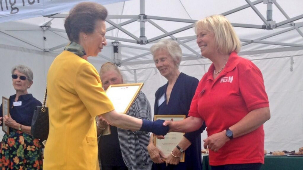 Karen Thompson, founder of Kesteven Rideability in 1988, was delighted to be invited to the Cartier Semi Finals at the Guards Polo Club, Windsor Great Park to receive the President's Award from Her Royal Highness, The Princess Royal.
The President's Award is the most prestigious volunteer award within RDA and is awarded for service of an exceptional nature over a period of not less than 25 years. As well as working within Kesteven RDA, Karen is also a volunteer for the North Midlands area which includes Lincolnshire, Derbyshire, Nottinghamshire, Leicestershire and Northamptonshire. Her role as Regional Instructor and Regional Dressage Coordinator is to assist other groups with any difficulties they may be facing and to provide training for the region.
Karen commented "I am honoured to be presented with this award. I am passionate about working within Riding for the Disabled and love every moment of it. To have the opportunity to meet The Princess Royal was truly wonderful."
The Princess talked about the difficulties of keeping groups running in today's economic climate and was delighted to hear about Kesteven RDA's continued growth.
Photographs courtesy of © Tony Ramirez/www.imagesofpolo