Newsletter
3 gold medals for Delyn Aur
(June 08, 2014)
---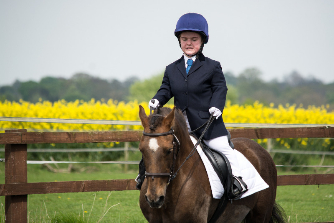 The aptly named 14 year old Fronerthig Delyn Aur (Golden Harp) has scored a hat trick of gold medals for riders from Kesteven Rideability in the Dressage Anywhere's RDA Online Championship.
The pony was purchased 12 months ago with the hope that he would become a suitable competition pony for the group. He excelled himself within 6 weeks of purchase at the 2013 RDA Championships by scoring the highest percentage of the weekend with rider Tracy Yarnell.
The 14 h.h. Welsh Sec C gelding helped riders Maria Leroi and Emily Johnson (pictured) to qualify and win the Grade Ia, Ib and II classes of the Riding for the Disabled Online Championship organised by Dressage Anywhere and judged by top Paralympic judge, Sarah Leitch.
Sarah commented on the score sheets that he is a lovely pony with super paces and shows promise for the future.
Both riders have qualified on "Del" to the RDA National Championships taking place in July at Hartpury College, Gloucestershire where they will be presented with their medals from the online competition.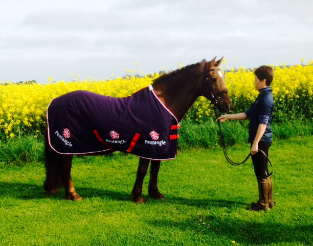 The pony is sponsored by various local businesses and supporters under a "Pony Angel" scheme and rugs/numnahs have been provided by Pentangle Engineering Ltd of Grantham. Kesteven Rideability would like to thank all those involved in the scheme for helping to provide this opportunity to our riders.