Newsletter
Chloe's Everest Trek
(April 30, 2014)
---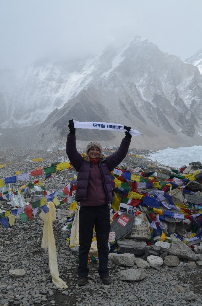 We began our adventure on the 4th April. We flew to Kathmandu which is the capital of Nepal. Kathmandu was definitely an experience, there are no rules on the road (Absolute chaos) and we had no sleep as they demolished a building at 4am! I changed my money in Kathmandu, I felt stupidly rich as my £300 equated to 47,100 rupees!
We were delayed flying out to Lukla as they shut the airport due to the bad weather. We organised a helicopter to fly us out the next day as the airport was shut again and if we didn't make it on that day then we wouldn't have had the time to complete the trek. Flying into and out of Lukla airport was completely terrifying I hope I never have to do it again! Lukla is a tiny airport in the mountains which is one of the most dangerous in the world.
Once we landed we had lunch and set off on our first walk of the trek.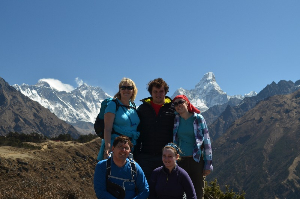 We saw our first Yaks and experienced our first Nepalese drop toilet! On a second day it was a hard slog up to Namche Bazaar (3500m). We caught our first glimpse of Everest hiding behind other mountains. Once we got to Namche I had to have my boots fixed as they had had enough and split open! The next day we had an acclimatisation day and we walked up to the aptly named Everest View hotel which was at (3900m). The following day we were headed for Tengbouche (3900m). It was a very hard day, made worse by the fact you could see Tengbouche but you had to descend all the way down into the valley to walk back all the way back up the other side! There are pictures of us asleep at the table when we finally made it. It was also very cold so we were getting into our sleeping bags fully clothed. It was that cold that the barrel of water that you used to flush the toilet froze! We visited Tengboche Monastery before we left, it was beautiful.
The next place we stayed was called Pferishe (4270m). We had to cross a couple of suspension bridges across the river on this walk. What was scary was that you could see the old bridges made up of just rope and wooden slats dangling down into the river! We had another acclimatisation day at Pferishe, you got really good views as we were above the tree line so there was nothing blocking the view.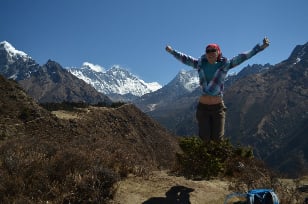 We were headed for Lobouche the following day which is at 4900m. When we stopped for lunch, our guide Lapar said that garlic soup was good for acclimatisation, the problem was that we then all stank! Never mind warding off vampires I think we were repelling all of the wildlife! While we were walking up to Lobouche we experienced a snowstorm and all got soaked.
The next day was Everest Base Camp! We had a three hour walk to get to Gorak Shep (5100m) where we had some lunch. We then had another three hour walk to get to Base camp. After about an hour and a half you could see Base camp but it was like a mirage it just never seemed to get any closer! It was amazing to reach Base Camp, we took up some prayer flags to put up and built a little cairn. Four out of the six of us made it too Base camp as my little sister was suffering with altitude sickness so stayed at the tea house and the next day she was taken by helicopter to the hospital in Katmandu. (She is fine now!)