Newsletter
Welsh trip a geat success
(October 03, 2013)
---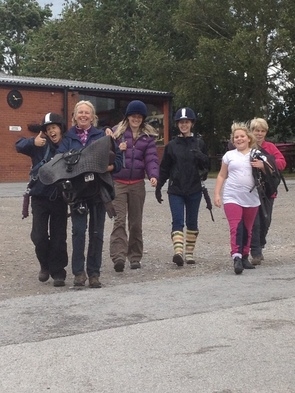 Kesteven RDA volunteers have just returned from taking six riders on a holiday to the Clwyd Special Riding Centre, thanks to generous sponsorship from the C.L.A. (Country Landowners Association).
All the riders live locally and are members of the Thursday Saddle Club which is held at The Paddocks Riding Centre, Hough on the Hill on a weekly basis. The riders enjoy a 90 minute session which comprises of riding, a session on the horse simulator and pony care. The Saddle Club recently won the Brilliant Idea category at the prestigious 2013 RDA Gala Awards and group trustees were presented with an engraved crystal trophy by Claire Balding at a ceremony held at the Plaisters' Hall, London.
The holiday gave the riders a chance to get hands on involvement with the horses on a daily basis, each rider having their own horse for the five days.
After a hearty breakfast the riders (with their volunteers) caught their horses from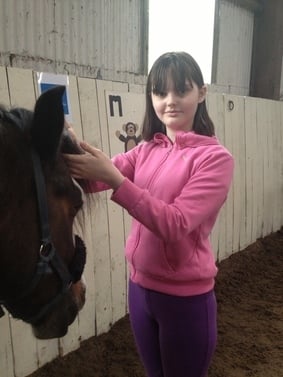 the field, groomed in the indoor school before tacking up ready to ride. The centre has all weather tracks around the fields and the riders enjoyed exploring the Welsh countryside at their own pace. By the end of the five days, some of the riders were riding off the lead rein, trotting solo on the tracks. The riders also learnt to clean their tack, which they took pride in undertaking at the end of each session. Group instructor, Sarah Harris created a holiday diary for the riders to complete and all the riders gained the riding Holiday badge during the week.
Other activities enjoyed by the riders were tenpin bowling in Wrexham, a visit to the Wrexham Science Discovery Centre, arts and crafts afternoon and an evening meal at the local pub.
Riders comments were: "I thought the centre was wonderful, the staff were really friendly and I enjoyed the trekking on Mr Harvey. Thank you and I'd love to go again."
"My favourite bit about the trip was helping to look after Taran the horse, it was great" "Frazer and I would like to say a massive thank you for letting us have such an amazing time. One which we will treasure in our memories forever .The warmth and friendship shown by the volunteers throughout our stay made the whole experience magical."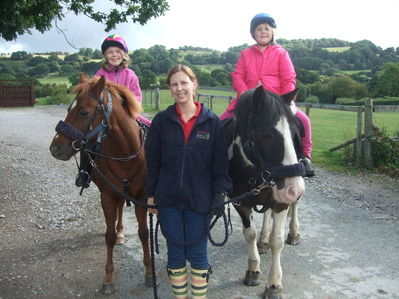 Fundraising team member, Claire Honeywood commented "This was my first time joining the group on holiday, I was a bit apprehensive but all this disappeared on arrival. The staff at the centre were friendly, the facilities were great and everyone fell in love with the ponies. There were many achievements made from the riders during their stay, which was very rewarding as a volunteer. I am very much looking forward to the next one."
The team were well fed and watered by volunteer, Rita Scott who produced wonderful meals at the drop of a hat and all the volunteers worked extremely hard to make sure the riders got the full benefit of the holiday.