Newsletter
Amazing Tandem Skydive
(August 30, 2013)
---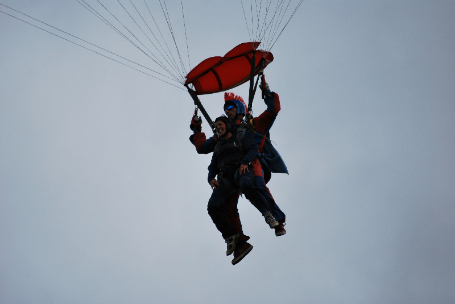 30th June 2013 was the date set for our Tandem Skydive at Chatteris Airfield, March, Cambs. It was a beautiful morning when we picked Sarah up to travel to our destination where we were to meet with Sharon around 8.30ish. I was feeling nervous had a sick tummy but was excited at the same time, Sharon and Sarah were excited, I think Sharon was a little nervous, if Sarah was she hid it well eating a Bacon butty for breakfast and then chips and a burger later. We booked in and were numbers 41,42 and 43 to jump. We found out they average 10 Tandem jumps per hour so we should be jumping round lunchtime. We had our training and time was ticking on and then the wind picked up. Karen and Les came to support us and arrived after sitting in traffic for 2 hours arriving around 1.45pmish. Unfortunately if the wind gets over 23 knots then we are unable to jump it got to 25 knots. There had only been around 10 that had jumped. We were called into a meeting at 2pm advising that the wind may calm a little but it was doubtful and it was our choice we could wait or rebook. We had already been hanging around for 6 hours so we made the decision to return. If I'm honest I was a little relieved as time had been getting on I had started feeling the nerves more and was feeling a little sick. We rebooked for the 6th August 2013.
Yeahhhh the 6th August 2013 has arrived what another beautiful day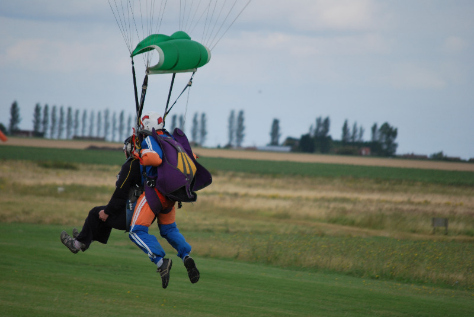 My husband Pete was mine and Sarah's driver again for the day and our support and video recorder, and Duncan Sharon's husband was her driver, supporter and Photographer for the day. We set off a little earlier to ensure that this time we were going to jump. As we had done the training back in June we knew what to expect, the only thing a think that worried us a little was being dangled out of a plan 10,000 feet in the air by what Sarah described as paper clips.
We arrived for 8am as they had suggested and there were already people waiting but we got in the queue and was number 15,16 and 17, this was the day WE ARE GOING TO JUMP eeeekkkkk. We didn't have to wait long before we were called to have a recap on our training, then the plane started up and the jumps started all we had to do was wait for our names to be called to get our equipment on. I was feeling the nerves now and excited as I had always wanted to do a Tandem Skydive and what a great charity to do it for. Sharon and Sarah were excited a little nervous though too. 11.00am came and we were called this was it no backing out now time to meet our instructors and get our gear on. Sharon and Sarah's instructors were really nice and chatty mine was quiet but nice. We had to get a boiler suit on which was the funniest thing ever Sharon put on hers and it was massive, Same as Sarah's we couldn't stop laughing. Then it was time to get our harness on. We knew they needed to be tight but they made you walk funny. Then we had to get a hat with goggles Sarah having a small head hers was a bit big and we were laughing at the way the wind would get round it.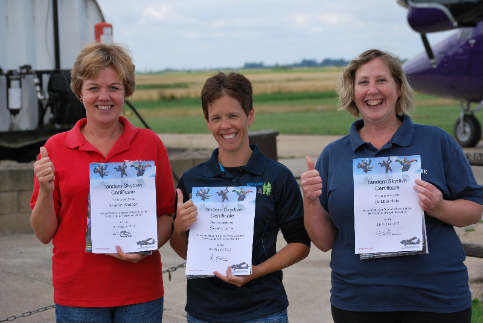 This was it we were ready we waited for our instructors to get themselves ready then it was off to the plane, it wasn't a big plane and it had no seats, we had to sit behind each other on the floor as if we were do the oops oops side your head dance. Me being me I fell into the plane what a start but it made us laugh. The door was closed it was a clear door and I was close to the front so could see out the door. The window view was great. The take-off was on grass and we were surprised at how smooth it was, it also didn't take us long to get to 10,000feet. Sarah though being small was unable to see out of her window and missed some great views going up. Our instructors rechecked our equipment and then the door was opened this was it the first 3 went out then it was me oh no I was first out of the 3 of us. I thought I can do this, We shuffled along the plane and I was put into position head to my shoulder my arms crossed across my chest then I felt a tap on my shoulder and heard right Debi here we go and with that we were out the plane. I screamed as all of a sudden we were free falling and that was it no turning back, then I thought to myself why you screaming you have someone attached to you who will pull the cord enjoy it then I was shouting awesome and yelling yeahhhhhh this is so cool. We then went through some clouds and he pulled the parachute cord and it went really quiet and felt so surreal. Then we came out of the clouds and the view took my breath away. We had to practice our landing. It seemed like we up in the sky for ages. Coming into to land I could see Duncan and Pete and started waving like mad and shouting. As we came in my instructor advised to get in the landing position as we came in he told me stand. We had a hug that was the best experience in my life I would do it again, I could waited with my instructor watching Sarah and then Sharon come in both with big smiles on their faces. Sharon was lucky she got to guide her parachute for a while what an experience that must have been. We all really enjoyed our experience.
We would like to a massive Thank you to everyone for their support.
Debi Hate, Sarah Harris and Sharon