Newsletter
Grace wins Best in Show
(August 12, 2018)
---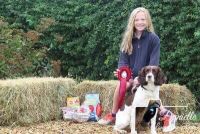 The weather wasn't kind to us at the dog show - but hey, what's a bit of rain when you are in the middle of a lovefest of dogs! We had a trio of escapees from the Cranwell Bloodhounds who were so excited to be with us they were bouncing around their pens and affectionately covering everyone in dog goo! The three were soon apprehended!
Rio and Fudge got an extra run around the field as they watched the goings on whilst cropping the grass, and we had lots of dogs showing off their waggiest tails, most appealing eyes, musical sits and quickest biscuit eating with Grace winning "Best in Show".
The book stall, Tombola, Hook the Duck and Guess The Name of the Dog were a great success with everyone testing their luck, whilst the hot drink and and yummy home-made cake stall did a roaring trade – every cloud!
Our visiting photographer, Danielle Longotano Rain, was kept busy taking photographs and the rain let up in time for some lovely ones of our winners and their owners. Despite the weather everyone was in good spirits and we brought in much needed funds to help keep Rio and Fudge in the manner to which they both aspire!