Newsletter
Gold star approval for our "Silver Hour"
(June 06, 2018)
---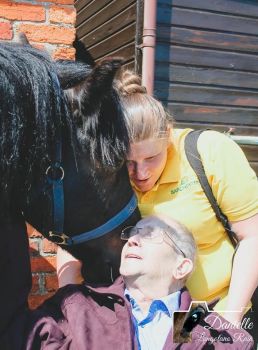 The sun came out for Kesteven Rideability's inaugural Silver Hour based at The Paddocks Riding Centre, Hough on the Hill on Thursday 24th May. This innovative programme of equine therapy was devised so that older disabled adults can experience and benefit from being with horses and ponies in a safe and supported environment.
For the first session, four residents and their carers from Newton House, a local care home in Grantham, were welcomed to Kesteven Rideability. After a brief introduction about the ponies and how to approach them each visitor came into the stable yard. There was much excitement in the air as three of our lovely ponies, Fudge, Sox and Rio, were brought out of their stables and introduced to the group. The ponies were then led around so that each of the visitors could meet, fuss and stroke them. All the ponies here are used to dealing with people of all ages and abilities and were not phased by the sight of a group of visitors in wheelchairs. Each pony was introduced and it was magical watching the reaction of our visitors as they stroked and talked to "their" pony. Faces lit up and voices became more animated. There were happy tears as one lady reconnected with her love of horses and another gentleman regaled us with stories of the real War Horses of WW1. After first introductions some of the visitors groomed their ponies. Rio loved his mane being combed and Fudge dozed happily as his lady brushed him. After plenty of fussing (which all the ponies really enjoyed) the visitors were treated to home-made cakes and tea whilst sitting outside in the shade beside the Centre's outdoor arena.
The afternoon produced many special moments and each of the visitors and their carers expressed how wonderful the event had been for them. Not only is being with horses an enjoyable experience, it is also a proven therapy helping to reduce anxiety and improving mood.
Always innovating, Karen Thompson, founder of Kesteven Rideability has seen how interacting with horses has many positive health benefits to young disabled children and adults. She said "I wanted to offer this opportunity to the older members of our Society particularly those who find it much harder to be independent or to get out and about. Irrespective of age or infirmity, I believe that everyone can benefit from this kind of experience and so The Silver Hour was born"
Newton House Activities Co-ordinator Sara Goslin commented "We loved to be able to take some of our horse loving residents to Kesteven Rideability to visit the horses. One of our residents hasn't left the home since she has been here with us, she was very excited to go, when she saw the horses her face lit up and this was priceless for her and her daughter when she saw the photos."
The Silver Hour sessions will run on Thursday afternoons throughout the summer months. Interested parties can contact Karen on: 07732 418848 or email: [email protected] or visit our website http://www.kestevenrda.co.uk/
Sessions can be for groups or individuals.