Newsletter
Karen wins top RDA Coaching Award
(October 23, 2017)
---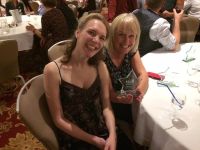 At the recent RDA Coaching Conference held in Solihull the RDA celebrated their first ever RDA Coaching Awards. The awards were set up to recognise and reward excellence in coaching within the RDA disciplines of riding, carriage driving and vaulting and to acknowledge the lasting impact such excellence has upon each of them. Nominated by one of her pupils, our very own Karen Thompson was awarded the RDA Riding Coach of the Year title after she was praised for her ability to build confidence and self-belief in her riders. The RDA Coaching Co-ordinator said, "Karen's sessions are delivered with encouragement and positivity. She is dedicated to her work as an RDA Coach and always shares her knowledge and experience. Her leadership has created an RDA group which truly embodies the motto of the RDA 'it's what you can do that counts'.
Paralympian Sophie Christiansen CBE presented Karen with her award at a ceremony which concluded the Annual Coaching Conference an event held each year to enable coaches from the many RDA Groups to come together to share their experiences and to exchange knowledge.
Other winners were Joanne Orr of Ballyward Carriage Driving RDA for Driving Coach of the Year; Rebecca Hewitt of Berwickshire RDA for Vaulting Coach of the Year; Joyce Truscott from Upminster RDA for the 'Extra Mile' Award and Greg Block from Chigwell Riding Trust for High Performance Coach of the Year.